How To Pay For Dubai Car Parking Through SMS
Dubai boasts an impressive road infrastructure and transportation system, with a notable focus on managing traffic and vehicle congestion through innovative parking solutions. Parking fees in the city vary by location and duration, and failure to pay or extend parking periods can result in significant fines. However, Dubai offers free parking on weekends and public holidays, providing some relief to residents and visitors.
HOW TO PAY FOR DUBAI CAR PARKING THROUGH SMS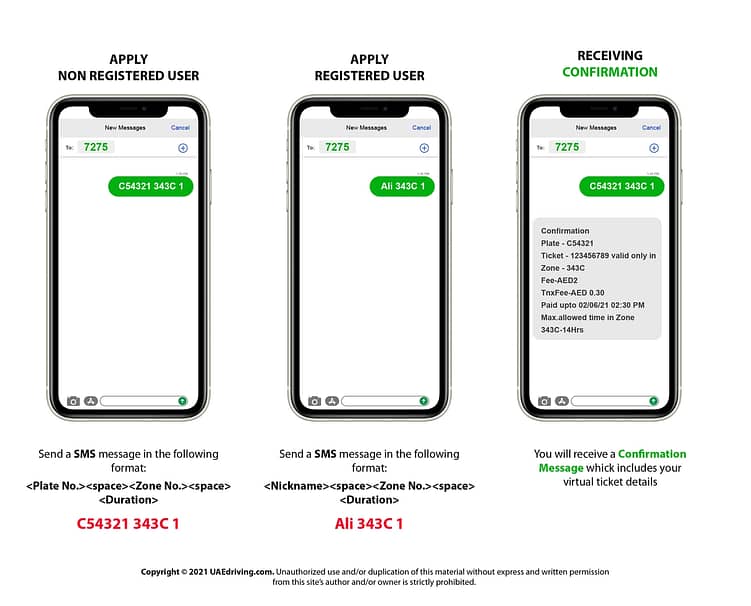 Sustainable Parking Solutions
Dubai's commitment to sustainability extends to its parking facilities. Unlike traditional parking meters, Dubai's meters are powered by solar panels installed on their roofs. Additionally, there's an eco-friendly option to pay for parking digitally, eliminating the need for paper receipts and reducing the hassle of placing them on your vehicle's dashboard.
Paying for Parking via SMS
For those embracing a digital lifestyle, the Dubai Road and Transportation Authority (RTA) offers a convenient way to pay for parking through SMS, known as mParking. To use this service, you need to format your SMS correctly:
Example SMS:
C54321 343C 1
In this format, "C54321" represents your plate number, "343C" indicates the parking zone, and "1" signifies the duration of the parking ticket's validity. Keep in mind that parking fees vary by zone, and you can identify the zones by orange paid-parking signs on the footpaths.
Special Considerations
Zone A allows for parking tickets with a 30-minute duration, indicated in your SMS as ½, .5, .50, 0.5, 0.50, 30, 30min, 30mins, 30minute, or 30minutes:
Example SMS for Zone A:
C54321 343A 0.5
This format applies exclusively to Zone A.
Non-Dubai Plate Registration
If your vehicle is not registered in Dubai, you should include the Emirate or country code as a prefix in your SMS:
Example SMS for Abu Dhabi Plate:
AUH14 54321 343A 1
Example SMS for Sharjah Plate:
SHJ2 54321 343A 1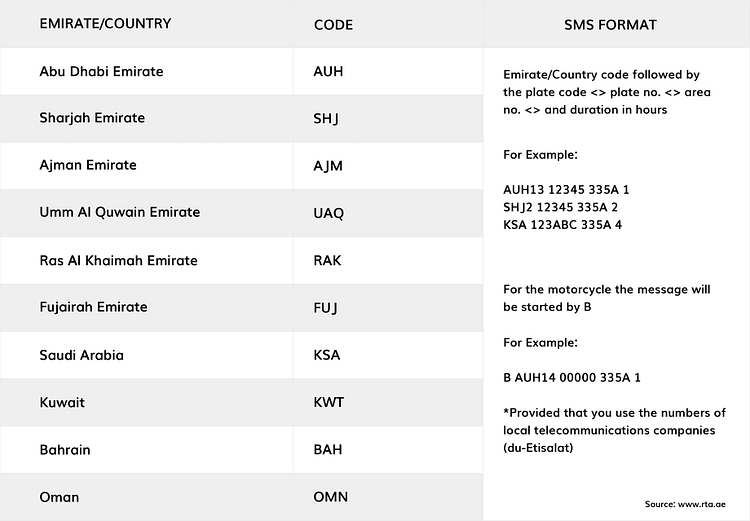 Confirming Payment
After sending the SMS to 7275, Dubai's official parking number, you will receive a confirmation code indicating the success or failure of the transaction. Ensure you have sufficient talk-time or SMS balance on your phone for successful payment.
Convenient Reminders and Extensions
mParking offers a convenient reminder service, sending you a notification 10 minutes before your parking ticket expires. To extend your parking ticket, reply with "Y" to the text message, automatically renewing it for the same duration. For changes in the duration, draft and send a new SMS.
Motorcycle Parking
Motorbike owners can also use mParking with the prefix "B" before their plate number, ensuring a smooth payment process.
Cost and Payment Options
Parking fees are based on the parking zone and ticket duration, with an additional charge of 0.30 fils for SMS fees. To avoid these charges, consider using the RTA Dubai App, which allows account recharge through various methods. The app also provides valuable information on parking, past transactions, and even offers loyalty points for discounts at cafes, restaurants, and entertainment outlets across Dubai.
Simplifying Parking Payments
Paying for your parking ticket in Dubai has never been more convenient. For further information or inquiries about mParking, contact the RTA at 800-9090, where they will be happy to assist you.